Overview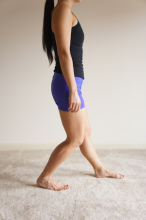 An Achilles tendon injury can affect both professional and amateur athletes. The Achilles tendon is one of the longer tendons in your body, stretching from the bones of your heel to your calf muscles. You can feel it, a springy band of tissue at the back of your ankle and above your heel. It allows you to extend your foot and point your toes to the floor. Unfortunately, it's a commonly injured tendon. Many Achilles tendon injuries are caused by tendinitis, in which the tendon becomes swollen and painful. In a severe Achilles tendon injury, too much force on the tendon can cause it to tear partially or rupture completely.
Causes
An Achilles tendon rupture is often caused by overstretching the tendon. This typically occurs during intense physical activity, such as running or playing basketball. Pushing off from the foot while the knee is straight, pivoting, jumping, and running are all movements that can overstretch the Achilles tendon and cause it to rupture. A rupture can also occur as the result of trauma that causes an over-stretching of the tendon, such as suddenly tripping or falling from a significant height. The Achilles tendon is particularly susceptible to injury if it is already weak. Therefore, individuals who have a history of tendinitis or tendinosis are more prone to a tendon rupture. Similarly, individuals who have arthritis and overcompensate for their joint pain by putting more stress on the Achilles tendon may also be more susceptible to an Achilles tendon rupture.
Symptoms
You may notice the symptoms come on suddenly during a sporting activity or injury. You might hear a snap or feel a sudden sharp pain when the tendon is torn. The sharp pain usually settles quickly, although there may be some aching at the back of the lower leg. After the injury, the usual symptoms are a flat-footed type of walk. You can walk and bear weight, but cannot push off the ground properly on the side where the tendon is ruptured. Inability to stand on tiptoe. If the tendon is completely torn, you may feel a gap just above the back of the heel. However, if there is bruising then the swelling may disguise the gap. If you suspect an Achilles tendon rupture, it is best to see a doctor urgently, because the tendon heals better if treated sooner rather than later. A person with a ruptured Achilles tendon may experience one or more of the following. Sudden pain (which feels like a kick or a stab) in the back of the ankle or calf, often subsiding into a dull ache. A popping or snapping sensation. Swelling on the back of the leg between the heel and the calf. Difficulty walking (especially upstairs or uphill) and difficulty rising up on the toes.
Diagnosis
In order to diagnose Achilles tendon rupture a doctor or physiotherapist will give a full examination of the area and sometimes an X ray is performed in order to confirm the diagnosis. A doctor may also recommend an MRI or CT scan is used to rule out any further injury or complications.
Non Surgical Treatment
As debilitating as they can be, the good news is that minor to moderate Achilles tendon injuries should heal on their own. You just need to give them time. To speed the healing, you can try the following. Rest your leg. Avoid putting weight on your leg as best you can. You may need crutches. Ice your leg. To reduce pain and swelling, ice your injury for 20 to 30 minutes, every three to four hours for two to three days, or until the pain is gone. Compress your leg. Use an elastic bandage around the lower leg and ankle to keep down swelling. Elevate your leg. Prop you leg up on a pillow when you're sitting or lying down. Take anti-inflammatory painkillers. Nonsteroidal anti-inflammatory drugs (NSAIDs) like ibuprofen (Advil, Motrin) and naproxen (Aleve) will help with pain and swelling. However, these drugs have side effects, such as an increased risk of bleeding and ulcers. They should be used only occasionally unless your health care provider says otherwise and should be taken with food. Check with your doctor before taking these if you have any allergies, medical problems or take any other medication. Use a heel lift. Your health care provider may recommend that you wear an insert in your shoe while you recover. It will help protect your Achilles tendon from further stretching. Practice stretching and strengthening exercises as recommended by your health care provider. Usually, these techniques will do the trick. But in severe cases of Achilles tendon injury, you may need a cast for six to 10 weeks or even surgery to repair the tendon or remove excess tissue.
Surgical Treatment
The surgical repair of an acute or chronic rupture of the Achilles tendon typically occurs in an outpatient setting. This means the patient has surgery and goes home the same day. Numbing medicine is often placed into the leg around the nerves to help decrease pain after surgery. This is called a nerve block. Patients are then put to sleep and placed in a position that allows the surgeon access to the ruptured tendon. Repair of an acute rupture often takes somewhere between 30 minutes and one hour. Repair of a chronic rupture can take longer depending on the steps needed to fix the tendon.
Prevention
To help prevent an Achilles tendon injury, it is a good practice to perform stretching and warm-up exercises before any participating in any activities. Gradually increase the intensity and length of time of activity. Muscle conditioning may help to strengthen the muscles in the body.